If you are as bold and colorful as a peacock, then wear a peacock tie. The blue eye is surrounded in light brown and brilliant green that can only make you get noticed. Do not be surprised if children corral you to have a look at this very unique bow tie.
Type: Pre-Tied Bow Ties
Size: 11.5cm x 6.5cm
Material: Feather
Package: Box Included
Every Feather bowtie has a slight color variation because of the hand selected feathers. The feather design is the same.
Customer Reviews
12/07/2019
Beautiful!
The bow ties are prettier, in person, than online. The presentation is great too.
PATRICIA N.
United States
12/07/2019
Excellence!
This is my third Bowtie from Ray and the company. Because of there uniqueness, these are the only bowties that I would wear other than self tieing bowties. Thank you!
KENNETH K.
United States
12/07/2019
Helpful and attentive
I paid for. Expedited shipping Ray assured me they would pay attention and they did! The tie is exquisite
Sandy B.
United States
12/06/2019
Very Unique!
Original and beautiful design! The ideal gift
David B.
Belgium
12/04/2019
Uniquely Gorgeous Peacock Feather Bowtie!
I was astounded at the glorious beauty of this bowtie! I think peacock feathers are absolutely fantastic, and this bowtie does justice to that natural beauty! It is so well-constructed and even has a leather backing that adds to its luxurious look and feel! It is worth the small price to get this level of perfection and uniqueness! No other bowtie can come close to competing with the beauty of this fantastic one! Carol Miller
Carol M.
United States
11/28/2019
Amazing Bow Tie! Great Customer Service
First the quality of Bow Tie is excellent. The initial bow tie was lost in mail and I was pressed for time to receive it. I contacted their customer service and they were quick to reply and react. Definitely recommend!
Louie F.
United States
11/28/2019
Beautiful and unique
Bought these ties as gifts for the holidays. They arrived quickly after ordering and they look as beautiful in person as they did on the website. I hope my boys love them as much as I did!
Lisa S.
United States
11/21/2019
Peacock Bow Tie
I purchased this item for my husband. The shipping was timely and the item arrived as shown. The colours are vivid, the quality and craftsmanship are excellent. It's a show stopper, I'll have to claw all the ladies off him at the party.
Francine S.
Canada
11/20/2019
Christmas present
This is a Christmas present for my son. It arrived yesterday and is beautifully presented. The tie is fabulous - well made and even better than the pictures. Thank you. I think my son will love this.
Jacqueline E.
United Kingdom
11/15/2019
Quality product
I ordered the peacock bowtie and blue flower lapel. Both are gorgeous and I would be order again from the company. Super fast shipping and communication.
stephanie W.
United States
10/24/2019
Peacock Feather Bow Tie
I recently purchased the green Peacock Feather Bow Tie and was very pleased with it. We needed it quickly and Bow-SelecTie made it happen! Ray, the Co-Founder was awesome about communicating with me about my purchase. I highly recommend Bow-SelecTie!
Kristie M.
United States
10/15/2019
Really liked
Everything was easy from Start of order to receiving. Quality was as expected
Eva S.
United States
10/09/2019
LOVE IT!
These bow ties are so unique and so awesome! Had lots of compliments on them!
Brendan D.
Canada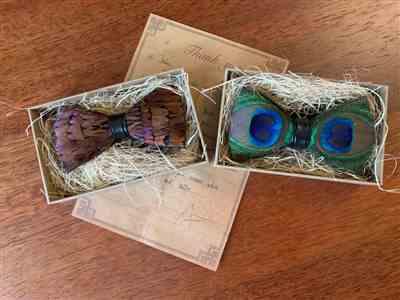 10/08/2019
Just Stunning
I don't have an occasion just yet to wear either of the ties I purchased, but I have a feeling they will be noticed when I do! I absolutely love them! Nice detail by sending a hand written thank you note, very classy, thank you thank you!
John R.
Canada
09/20/2019
Perfect!
I bought this as a birthday gift for my husband after he saw it on a television show & he loves it!
Brittni W.
United States
09/11/2019
Beautiful Bow Tie
The bow tie was absolutely beautiful! Very fast delivery for being in another country. Would definitely buy again.
Ben W.
Australia
08/23/2019
Different bow
Very good and loved the collection
John B.
United States
07/11/2019
Wedding
Fantastic! Was a complete success
Gianluca M.
Belgium
06/20/2019
Peacock Feather Bow Tie
Amazing looking tie. I received it and it is way more stunning in reality, the images don't nearly do this bowtie justice. Depending on how the sun hits it the bowtie also changes color. I tortured myself and wasted money having a custom bowtie made when this was really a one stop shop.
Angelique C.
United States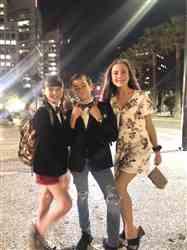 06/08/2019
Peacock Feather Bowtie
The tie is beautiful and very well made. The packaging confirmed we have purchased from a company that values quality. We will absolutely purchase from this company again.
Shawn D.
United States