This wooden bow tie is a fashion-lover's fantasy with its elegantly curved wide wings that taper down into a stylish center band. The wood used is light and grainy and largely unfinished to give the bow tie a ruggedly natural appeal capable of attracting woodland creatures.
Type: Pre-Tied
Size: 11.5cm x 6.5cm
Material: Wood
Package: Box
Customer Reviews
Write a Review
Ask a Question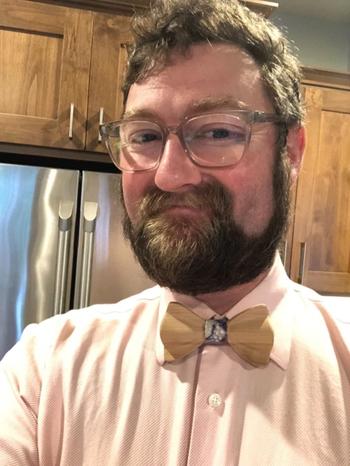 05/09/2019
Beautiful tie
This tie is different and beautiful. Easy to wear. Lots of compliments
12/25/2021
One of the best
It was exactly as I expected it to be. Thanks
Tzvika F.

Australia
03/17/2021
The Wooden Bow Tie
Experience was awesome. Love your product! Will be my "go to gift" this year.
Crystal P.

United States
08/07/2020
Raindrops Wooden Bow Tie
I purchased this as a gift for my nephew. Service online was easy; item was accurately depicted and delivery was flawless. The wooden bow tie is very good looking; I think my nephew will be pleased. I will definitely visit your site again. Thank you all for excellent services - rare in this day and age.
Donna H.

United States
04/17/2020
Rainbow Drops Bow Tie
It came quickly despite the ongoing pandemic. The quality of workmanship is beyond expectations. The ties add a new level of dapper. I can't wait for my next purchase.
Matt H.

United States
12/08/2019
GORGEOUS Tie
Wonderful. Christmas gift for nephew
Susan S.

United States
09/19/2019
Wooden bow tie
Total experience with bow selectie was excellent!
Dianne C.

United States
06/13/2019
Wonderful!
It was a birthday gift and my friend, which is a school teacher, love it. Will wear it on his return to school.
Janet K.

United States
03/04/2019
Great Gift
I bought this tie for my son's 21st birthday. He loves unique ties and this one certainly fit the bill. The quality is exceptional and the price extremely affordable. He wore it to his birthday dinner celebration and received many compliments.
10/14/2018
Wooden bowtie
Looks great and got plenty of complements.
10/04/2018
LD Goodwin Ministries
First of all I wore my colorful wooden bowtie to Dallas,Tx for work as my company HCSC was awarded Modern Healthcare Best Places to Work, the response was awesome everybody coming up touching my wooden tie . But be advised it is a lighter shade of wood than what is shown on the website.. Still 4.5 stars. Next was the Dark Hollow Wooden Bow tie, That I wore at my father's funeral services. As I stood in the greeting line I am sure that I had over 10 men asking me for my tie stating scriptures "Its better to give than receive " Now to be honest I told people these ties were hand crafted especially for me and I will see if my friend can make some more.. In the future I know I must order two of everything that I purchase one for me and one to bless someone else. Rate this one 5 star.
09/19/2018
It's a Bowtie Thang!
I've purchased (2) wooden bowties and I absolutely love them. If you're a fan of bowties, there's no question that you will love Bow-SelecTie!
04/18/2018
Thank you
I receive good and i appreciate. Good service.
03/11/2018
Awesomeness
It was great the first time I wore it. It's the fifth wooden bow tie I own, I do love things that are different
02/07/2018
My newest wooden bow tie
Loving your products!!! Thank you for quality craftsmanship!
12/25/2017
Raindrops wooden bow tie
beautiful quality, fast service
11/08/2017
Amazing!
I really like the piece! Fast service and a really nice bowtie! Thanks!
Kevin O.
Clair, NB, Canada
10/23/2017
Wooden Bow Tie
I love it and love the attention my unique bow ties become. Just what I was hoping. We don't where bow ties in Hawaii where I come from. In Texas many men wear bow ties to church. I figured- if this Hawaiian is gonna wear a bow tie, it has to be unique. And that it is!
06/17/2017
Great products every time
I've order a few bow ties and have been impressed every time by the quality and speed of delivery.
06/14/2017
Incredible Service!
I was quite surprised actually. Not only did I receive a personal thank you email after my purchase, but received two handwritten thank you cards when I received my package in the mail. The product and customer service were outstanding. Thank you!