This is a real wood tie. The lines cut into the wood are a perfect recreation of the lines of a classic bow tie. The wood grain patterns are tasteful and strangely elegant. A feathery blue and black band adds some natural color to the tie. It is guaranteed not to draw termites.
Type: Pre-Tied
Size: 11.5cm x 6.5cm
Material: Wood
Package: Box
Customer Reviews
Write a Review
Ask a Question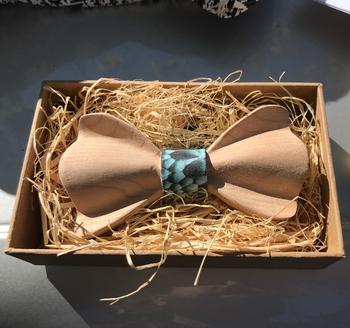 10/10/2017
Fab
Loved everything about it ! Fast shipping , great quality , lovely packaging !
03/09/2017
Excellent product!
I was very suprised with the quality of the bowtie I have ordered recently. Also, shipping time was not so long. Very professional Staff working there! Package arrived with little note from the company, which was very sweet and unexpected :) Only one minus - I didn't know it comes from Hong Kong, and I had to pay a lot for custom and duty. thanks, for sure I will order more in the future! :)
10/24/2016
My son looked great for
My son looked great for his Homecoming dance. Very unique and everyone loved it
01/03/2021
Excellent quality and large variety on inventory
Reynaldo V.
United States
11/25/2020
Awesome gift
I purchased a wooden bow tie as a gift for my son. It is absolutely stunning. I haven't given it to him yet but I'm sure he will love it. I will update this review after he receives it with what I am sure will be rave reviews.
Laura B.
United States
12/12/2019
Beautifully crafted bow tie
I bought this for my father for Christmas who loves wood craft. Its of such a high quality I know he will be delighted with it. The whole process was easy and postage was fine.
Julie M.
Australia
11/30/2019
Beautiful Wooden Design!
It is so special to find such an outstanding and well-constructed bow tie! This is so unique and really stands out! It is the perfect gift for the person that appreciates something rare and profound! I love it! Carol Miller
Carol M.
United States
08/30/2019
Nice Quality, but a little suggestion
Easy ordering and shipping was quick and efficient. I was a little surprised the wood on the bow tie was raw and unfinished and seemed a tad darker in the photo. All good though, I darkened it a little with a lemon wood oil. Now it is perfect and I love it.
Kevin P.
United States
05/21/2019
Wooden bow tie
The shipping for this item was very swift and delivery was just as quick. The bow tie is very well carved and looks amazing.
01/29/2019
Wooden bowtie
Very nicely package and very nice item! Shipped and arrived fast. Very original! Recommend ++*
Catherine B.
United States
11/12/2018
Awesome
Can't believe I ordered another one. Could not pass it up. Absolutely beautiful.
patricia m.
United States
10/22/2018
Wooden bow tie!
I haven't actually worn it yet but it looks super cool! Delivery was quick and quality is great!
07/31/2018
Love my wooden ties
All I expected and more
05/08/2018
Wooden Bow Tie
Nice quality , just needed a outfit to wear with it.
12/12/2017
Great TIE
Loved it. I used this at several Christmas parties and it was a hit. Very cool variety as well.
11/12/2017
Wooden Bowtie
Not as heavy as people say. Stayed well on my neck. Looked good. Received many compliments
10/09/2017
Love it
It is going to be a Christmas gift. So unfortunately it is not been used yet. But it's lovely!!
Madeline S.
United States
12/09/2016
Outstanding company
It was great..product was delivered quickly