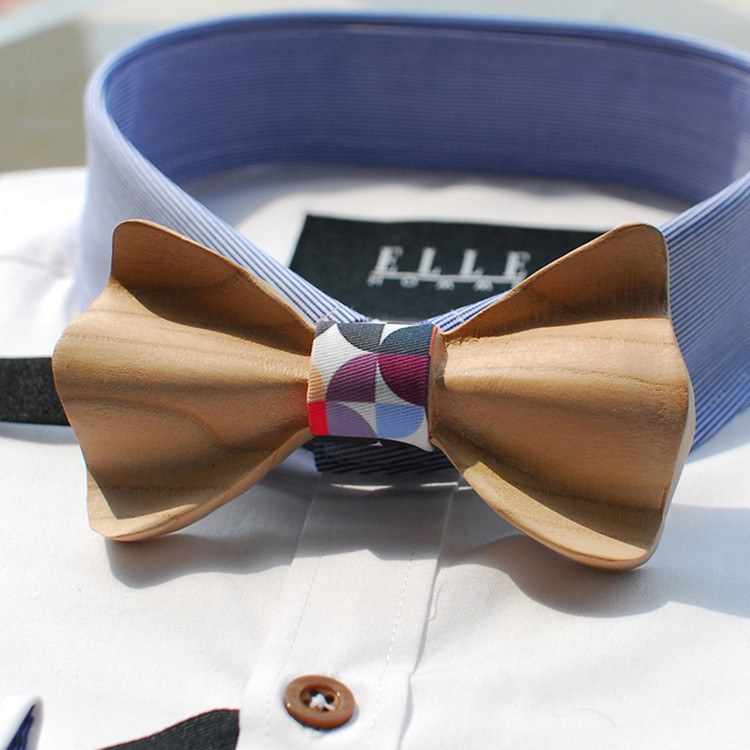 The center knot of this classic tie catches the eye with a multitude of colors before one realizes that it is a wooden tie. The tie has a classic bow tie pattern. Thin grains of wood are shaped to complement the lines of a classic bow tie except this one is wood.
Type: Pre-Tied
Size: 11.5cm x 6.5cm
Material: Wood
Package: Box
Customer Reviews
Write a Review
Ask a Question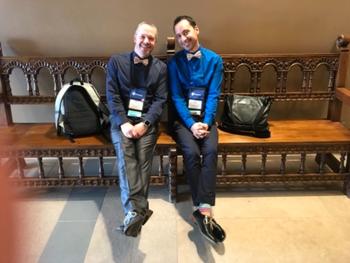 02/28/2018
Compliment after compliment after intrigued look
Fantastic. So many intrigued looks asking "is that wooden?!" Will be hard to top this look.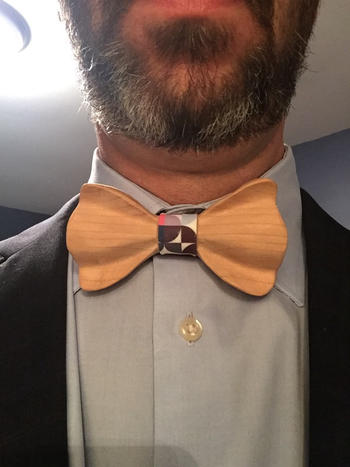 10/19/2017
Love the wood
Buddies and I meet every quarter at s sales conference and see who can have the best bow tie. It was obvious who one this time!! Huge hit. Why "wood" you "knot" want one of these?
02/07/2020
First Purchase
I'm new to the wooden bow tie fashion scene. This was my first wooden bow tie purchase and I love it. I think the price was right and have received many compliments about it the first time I wore it. Looking to make additional purchases immediately.
Tyrone J.

United States
02/03/2020
Review of wooden bowtie
Great! The product was exactly what I expected and the packaging was really nice too.
Stefanie B.

United States
09/13/2019
Getting Married
So I havent worn it yet can the wedding is in October, but when i told everyone about the wooden bowtie they were very skeptic. It came in and everyone thinks it is awesome and super unique. I have tried it on and it fits well! I am super happy with my purchase and cannot wait to wear it on my wedding day.
William F.

United States
08/13/2019
First buy
The check out process was super easy and the product arrived very quickly !
Paige E.

United States
08/04/2019
Wooden bow tie
Bow tie looks great and appears well made. It came in nice packaging too.
Karen M.

United States
05/23/2019
BOW TIE
IT's a blocky tie
04/27/2019
Perfect!
Ordering was simple and the bowtie arrived faster than expected. This is a gift for my son and he is very excited to wear it. Great experience and very well made product!
02/06/2019
Good quality!
I got this bow tie as a gift for one of my guy friends. When I received it in the mail, I was beyond impressed with the quality and look of the product. The packaging was adorable as well and I am able to simply give it to my friend without having to wrap it up. I love this product!
01/21/2019
Dad LOVED
Great..would definitely order again
12/14/2018
Amazing!
I purchased my partner a wooden bow tie for Christmas, something he has been asking for over the last few years. I came across Bow SelecTie and knew this was the company to get it from! After a quick delivery, I opened the box and fell in love with it! I cannot wait to see him open it on Christmas Day!
12/12/2018
Great product!
Great product, price and communication. Really pleased with the gift for a friend. Would definitely use again. Thank you
12/11/2018
Gift for a friend
Got this for a friend who wears bow ties. He loved it and plans tonwear.it to all his holday parties. Thanks
12/02/2018
Great quality and so many compliments!
This bowtie and the packaging looked exactly like the picture. It was much lighter than expected and easy to put on. I received so many compliments at the event and people asking me where I got them. The person over the live chat was also very helpful when I wanted to purchase another item immediately afterwards and have them shipped together. I will definitely buy from your company again for future events.
11/12/2018
Fabulous
Fantastic bow tie - Amazing - absolutely love it and have received great compliments
10/27/2018
Perfect Gift
Very efficient purchase and delivery experience. Product arrived in nice packaging. Purchased the wooden bow tie as a gift for a boy who is excited to receive the gift and has been able to make it to good use.
09/06/2018
lovin' the tie
I bought the wooden bow tie as a gift for my nephew in college - apparently wearing bow ties is a big thing for his group. He LOVED it. It arrived beautifully packaged for a great presentation. Great experience all around!