Black Premium Feather Bow Tie
Black Premium Bow Tie is made by multiple layers of dyed black goose feathers to enhance the depth of feathers to get a 3D feeling. As the feathers are of one color only, the bow tie looks simple and pure. A fresh, natural and elegant style is emanated by Black Premium Bow Tie.
Type: Pre-Tied Bow Ties
Size: 11.5cm x 6.5cm
Material: Feather
Package: Box Included
Every Feather bowtie has a slight color variation because of the hand selected feathers. The feather design is the same.
Customer Reviews
11/08/2019
Pictures reflect reality
I bought 3 Feather Bow Tie and received them quikly (1 week to Canada-Quebec). They are like they look on pictures. It is a bit expansive, but unique and great quality. Packaging is also cute. Service is very good.
11/04/2019
Fantasy Product
My Feather Bow Tie arrived today and is fantastic, can't wait to wear it, great product and great service
eric t.
Australia
11/01/2019
Bows for wedding
The Black Premium Feather Bow Tie was made very well. Will really make for some good looking groomsmen. Thanks for the discount for a large order!
Carlin M.
United States
10/31/2019
Premium quality
What a pleasure receiving in my Swiss countryside this beautiful Bow Tie and broches.. Feeling as haute-couture workshop neighbors. Can't wait to wear it
Fasel J.
Switzerland
10/26/2019
Thank you!
The ties are beautiful and I am looking forward to wearing one to the Gala next week and the other one to my son's wedding. Thank you so much!
Dan C.
United States
10/25/2019
Black Feather Bow Tie
Beautiful bow tie, well made and expertly shipped.
Jeff S.
Australia
10/11/2019
Love my bow tie
So many compliments. I am a female who loves it with a white silk shirt and all by itself as a choker.
Alexis L.
United States
10/10/2019
Feather bow tie
A great bow tie - looks spectacular.
Martin C.
United States
10/08/2019
Black Feather Bow Tie
This bow tie is outstanding.... I have never seen anything like it. Can't wait for my grandson who is 21 to wear it.
Connie P.
United States
09/27/2019
Very good quality
Amazing item and super good quality. Fast delivery! Got it in 2 days!
Freddy A.
United States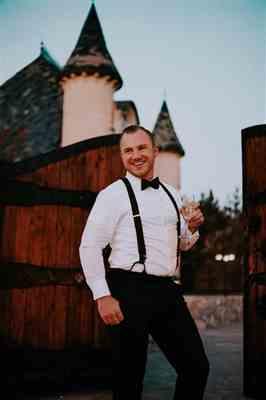 09/27/2019
Subtle Perfection
Fantastic. This bow tie isn't too flashy or noticeable from a distance but it's the shock and awe up close that really makes it **** it. Wedding slayer. I was impressed that the backing is leather and the overall quality of the piece.
JH
Jared H.
United States
09/23/2019
Very Impressed with Quality
The feathers are beautiful, and the boxing of the bow tie is really well done. Overall a 5 star product!
Josh M.
United States
09/13/2019
A distinguished look
The black tuxedo bowtie was a phenomenal looking conversation-starter. Certainly worth every dime. Ordering and delivery were seamless and speedy
Randy R.
United States
09/10/2019
Beyond expectations!
My husband absolutely loves it! Amazing quality
Taylor M.
United States
09/05/2019
Awesome Bow Ties
Great product and service from top to bottom
DS
Dusty S.
United States
07/09/2019
Such a unique gift
Really pleased with the quality. Such a fun item to gift.
Lauree C.
United States
06/27/2019
Black feather bow tie
I haven't received it yet it's for my friends wedding I bought the wild pheasant one for my cousins wedding back in March and I loved it and received some great compliments can't wait for my new one
Wayne R.
Canada