Black Premium Feather Bow Tie
Black Premium Bow Tie is made by multiple layers of dyed black goose feathers to enhance the depth of feathers to get a 3D feeling. As the feathers are of one color only, the bow tie looks simple and pure. A fresh, natural and elegant style is emanated by Black Premium Bow Tie.
Type: Pre-Tied
Size: 11.5cm x 6.5cm
Material: Feather
Package: Box
Every Feather bowtie has a slight color variation because of the hand selected feathers. The feather design is the same.
Customer Reviews
Write a Review
Ask a Question
06/04/2022
Very Stylish!
I wore this black goose feather bow tie to a black birders event and it was a hit! The tie is amazing quality. It took me a bit to get put on just right, but I would definitely purchase from here again.
David G.

United States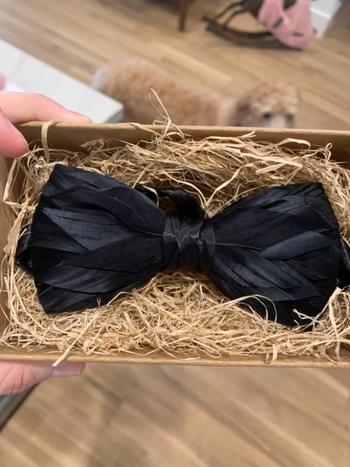 01/14/2021
Amazing quality
We bought this as a gift for our dads for our upcoming wedding! The black will go great with their tuxes. The quality is absolutely stunning.
Allie C.

United States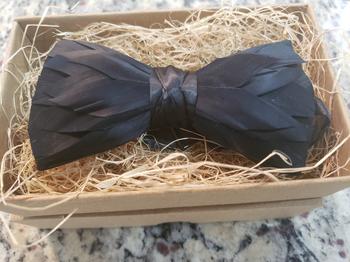 12/17/2020
Black Premium Bow Tie
I wanted to do something special for my husband for my daughter's wedding. The workmanship and overall quality of this tie is extraordinary! I wish I had time to get one for the groom!!!! We will be ordering additional bow ties ...... well done!
LAURIE A.

United States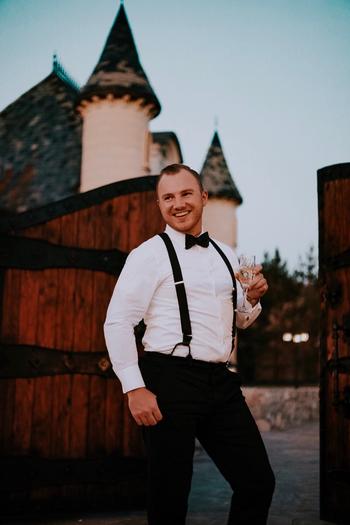 09/27/2019
Subtle Perfection
Fantastic. This bow tie isn't too flashy or noticeable from a distance but it's the shock and awe up close that really makes it **** it. Wedding slayer. I was impressed that the backing is leather and the overall quality of the piece.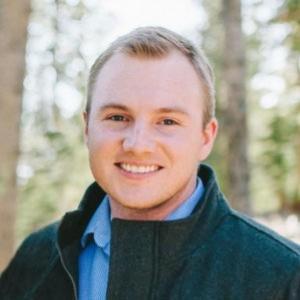 JH
Jared H.

United States
07/08/2022
Unique, different, cool cool bow ties!
Fast shipping, a great company to take your bow tie game to the next level. Very happy with my purchase.
07/03/2022
Unique!
Love this product and the comments I received!
Tom L.

United States
05/28/2022
Black feathered bow tie.
Haven't used it yet but it looks awesome. Good quality.
Eric D.

United States
02/25/2022
Black Feather Bow Tie
Just amazing, perfect fit for the most chic evening
Guy C.

Canada
01/13/2022
Black Premium Feather Bow Tie
I wanted a unique, classic gift for a friend and this certainly fit the bill! From order to delivery, the process was great! The Bow Tie is Beautiful and I actually ordered a second one (the Blue Feather Bow Tie) as soon as my first one was delivered. When I opened the box, that product blew me away! Great product, great company!
Carla A.

United States
12/21/2021
Fantastic Service
I ended up order a large batch of the black premium feather bow ties for all of the groomsmen in my wedding party, and the customer service and assurance that I received was fantastic. I needed prompt delivery, and BowSelecTie ensured that all 20 of my bow ties were received in less than a week. Thanks again, highly recommend.
Brett M.

United States
12/13/2021
Lookout Wedding, Here we come!
Absolutely great service. Ordered this Bow Tie for my Husband, for my Daughters wedding. Can't wait to give it to him. It's so awesome! Great quality!
Shannon S.

United States
09/24/2021
Slick bowtie
Very slick , great quality, well made. Excited to wear it.
Dominick Y.

United States
08/31/2021
Awesome bow tie!!
Great experience! Unbelievably fast shipping and the tie was WAY better than I expected! So great! I had very high hopes and it still exceeded my expectation. ORDER ONE NOW!!!!!!
Alex H.

United States
11/29/2020
Elegant bow tie
Bought for my husband to wear for our daughter's upcoming wedding. Very elegant and gorgeous. Exceeded my expectations!
Sharon F.

United States
10/30/2020
Great Bow Tie
Just got it and the tie looks great, can't wait to try it out.
Brian M.

United States
10/19/2020
Fabulous bow tie
Quick shipment and beautiful bow tie!!! Great quality!!!!
Elizabeth H.

United States
10/13/2020
something different
My overall experience was good i received my purchase is a resonable time and in good condition. ive never had a feathered bow tie before and couldn't pass up this opportunity.
Omar F.

United States
09/14/2020
Love the new Bow Tie....
Looks beautiful and will look nice at my daughter's wedding. Looking forward to wearing it.
Carl D.

United States
08/15/2020
Great!
The item is great all round I'm excited to use it for my wedding.
Devon M.

Canada