Black Premium Feather Bow Tie
Black Premium Bow Tie is made by multiple layers of dyed black goose feathers to enhance the depth of feathers to get a 3D feeling. As the feathers are of one color only, the bow tie looks simple and pure. A fresh, natural and elegant style is emanated by Black Premium Bow Tie.
Type: Pre-Tied
Size: 11.5cm x 6.5cm
Material: Feather
Package: Box
Every Feather bowtie has a slight color variation because of the hand selected feathers. The feather design is the same.
BLACK FRIDAY DEAL
Buy this today and save $54.01 USD! Only while stocks last.
Customer Reviews
Write a Review
Ask a Question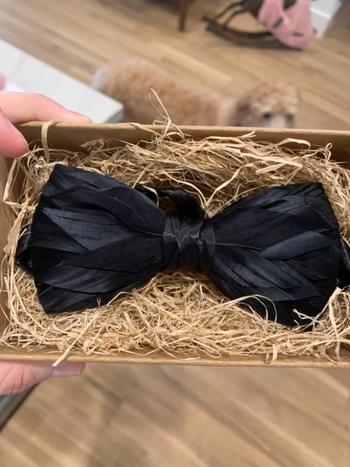 01/14/2021
Amazing quality
We bought this as a gift for our dads for our upcoming wedding! The black will go great with their tuxes. The quality is absolutely stunning.
Allie C.

United States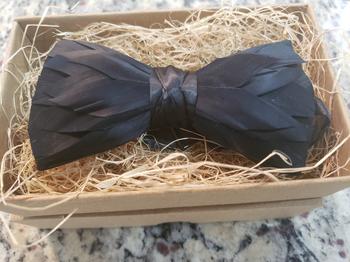 12/17/2020
Black Premium Bow Tie
I wanted to do something special for my husband for my daughter's wedding. The workmanship and overall quality of this tie is extraordinary! I wish I had time to get one for the groom!!!! We will be ordering additional bow ties ...... well done!
LAURIE A.

United States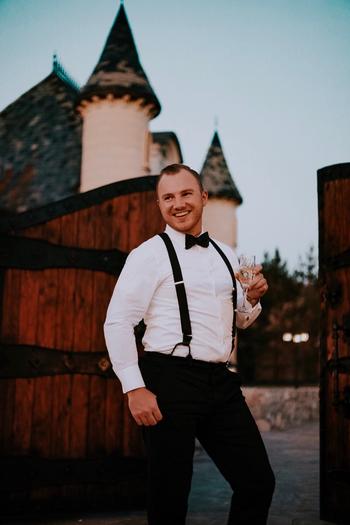 09/27/2019
Subtle Perfection
Fantastic. This bow tie isn't too flashy or noticeable from a distance but it's the shock and awe up close that really makes it **** it. Wedding slayer. I was impressed that the backing is leather and the overall quality of the piece.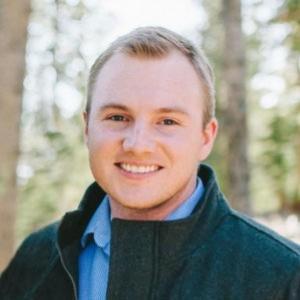 JH
Jared H.

United States
09/24/2021
Slick bowtie
Very slick , great quality, well made. Excited to wear it.
Dominick Y.

United States
08/31/2021
Awesome bow tie!!
Great experience! Unbelievably fast shipping and the tie was WAY better than I expected! So great! I had very high hopes and it still exceeded my expectation. ORDER ONE NOW!!!!!!
Alex H.

United States
11/29/2020
Elegant bow tie
Bought for my husband to wear for our daughter's upcoming wedding. Very elegant and gorgeous. Exceeded my expectations!
Sharon F.

United States
10/30/2020
Great Bow Tie
Just got it and the tie looks great, can't wait to try it out.
Brian M.

United States
10/19/2020
Fabulous bow tie
Quick shipment and beautiful bow tie!!! Great quality!!!!
Elizabeth H.

United States
10/13/2020
something different
My overall experience was good i received my purchase is a resonable time and in good condition. ive never had a feathered bow tie before and couldn't pass up this opportunity.
Omar F.

United States
09/14/2020
Love the new Bow Tie....
Looks beautiful and will look nice at my daughter's wedding. Looking forward to wearing it.
Carl D.

United States
08/15/2020
Great!
The item is great all round I'm excited to use it for my wedding.
Devon M.

Canada
07/29/2020
Jessica W.

Australia
05/07/2020
Perfect, I love it
Perfect, I love it
Adama T.

United States
04/25/2020
High quality!
Very charming and qualitative! Also very fast shipping!
Tania S.

United States
04/03/2020
Black Bow Tie
I have several Feather Ties I've purchased over the last few years. I love the look and enjoy the comments I receive from friends and associates. A well designed and made product.
John J.

United States
03/29/2020
BLACK PREMIUM FEATHER BOW TIE
Service was excellent. I initially bought bow tie for myself but when my husband saw it he wanted it.
Linda W.

United States
03/15/2020
Love the bow tie but
Love the bow tie but took almost 2 weeks to receive it. Plan ahead if you are in need of it for an event.
Blake K.

United States
01/06/2020
Luxurious
This Bow Tie was exactly as pictured. Its beautiful.
Hannah J.

Australia
01/01/2020
Beautiful!
This bow-tie is exquisite; unique, stylish, and exudes class. Amazing craftsmanship, beautiful creation. 10*/
Alycia V.

United States
12/25/2019
Black feather bow tie.
First of all the shipping was super fast! I ordered it for a New Year's Day party and cant wait to wear it. So unique and rich. Can't wait to be different and wear it with my tux.
Jamarr C.

United States