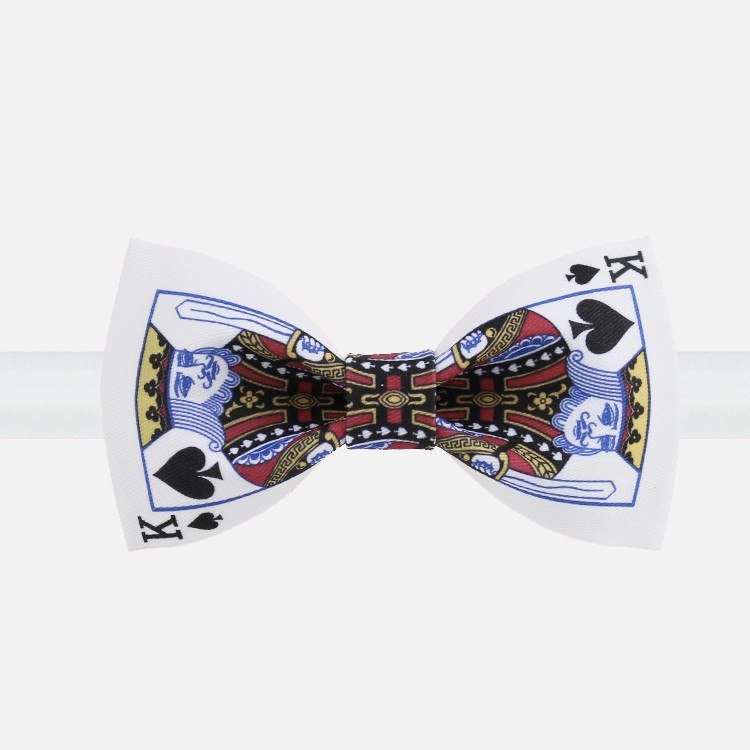 This tie lets everyone know that you either love poker or you are absolutely sure you are at the top of any game. The tie is an exact copy of the King of Spades right down to the creases in the sword and the spades on the suspenders. It suits people playing cards in casino as well.
Type: Pre-Tied
Size: 11.5cm x 6.5cm
Material: Polyester
Package: Box
LIMITED TIME SPECIAL OFFER
Buy this today and save $10.00 USD! Only while stocks last.
Customer Reviews
Write a Review
Ask a Question
09/28/2019
So many compliments
These ties look amazing and very creative. I get compliments all the time when I wear mine. Thank you sooooooo much.
eric w.

United States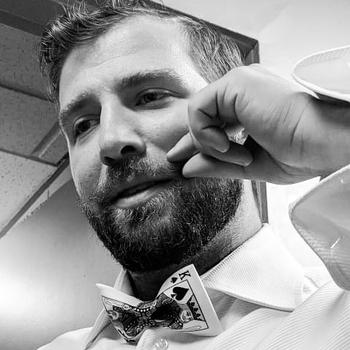 09/10/2018
King of Bowties & customer appreciation
I purchased the King of Spades bowtie from Bow Selec Tie. The product was PERFECT. I bought this item for two reasons, 1 it looked unreal and I thought it would be an amazing conversation piece at a wedding or fun/casual event. 2 on occasion I deal poker for functions and people thought I was a professional dealer. The minute I showed face at the event, everyone, guy or girl, commented on it. Speedy delivery too. When I recieved the King of Spades it can with a HAND WRITTEN note expressing their appreciation for my business. Who does that anymore?!? EXTREMELY SATISFIED from click to delivery.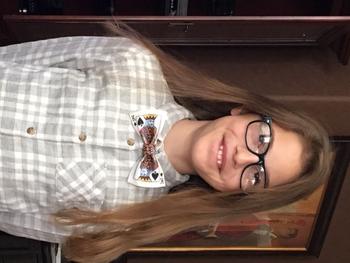 11/27/2017
THE BEST BOW TIES EVER!
I love buying from Bow Select Tie company. They are great to deal with and I but the best assortment of some of the most original ties I have ever seen. They ship my purchases quickly and efficiently. I cannot say enough great things about this amazing company and I will continue buying their bow ties as long as they keep turning them out!!! Peter Eichberg
12/01/2021
King of Spades
Item was delivered quickly. Great service. Tie is perfect for a card night prize. Excellent.
09/10/2021
The most wonderful present for my husband
Everything was perfect,,
Gunilla V.

Spain
11/15/2020
Fun style bow ties
I just love the 5 ties I purchased. They will be a conversation piece for sure. Great quality at a good price
Carey C.

United States
01/04/2019
Very cute bow tie
Not my favorite of the three I purchased ( Japanese waves takes the win!) but still very cute! Service was super fast to Canada! Thank you for the most creative Christmas presents!
12/23/2018
Unique!
The bow tie is a gift for my son. It came quickly & is packaged nicely. I took a quick peak at it & the quality looks great! Love, love, loved the personal thank-you-for-the-business card! What a great touch. I limited myself to only ordering one but I'll be sure to order more!
11/30/2018
Great Bow Tie!
I ordered this bow tie as a gift and was delighted when it arrived. The quality is lovely and it was exquisitely wrapped in a gift box with straw packing. The overall presentation is fantastic. I know this will be well received as it looks so impressive. Thank you!
11/15/2018
It's really cute
Great quality product and attention to details. You won't be disapointed
10/28/2018
OMG I love them beautiful and they look so classic and elegance thank you so much I'm so happy I got to purchase them thank you ☺️
thank you so much my friends In Japan they love them I was a big hit thank you so much I want more
05/05/2018
Great Bow Tie
This was a gift for my son and he loved it. I liked that it came ready to wrap in a great little box!
11/10/2017
Ritz Carlton Service
This was one of the most amazing customer experiences I've ever had. From the elegant way the ties were boxed to the personal note sent along to thank me, this was Ritz Carlton type service all the way around. I'm new to wearing bow ties and now I know this is the only place I'll be buying them!
11/06/2017
Dope
The bow tie is a hit!
10/29/2017
High Quality Bow Tie with Fun Design
It was difficult to find a bow tie with a card print that didn't look or feel cheap so I was very happy when this one arrived. Great quality and materials. Perfect for my game themed work event!
Lawrence R.
United States
10/22/2017
Xmas gifts
What I can say at this time is the quality and the timely manner that they arrived I give you guys a 10 these are all Christmas gifts for male family members and I will let you know in the new year with their response was
09/03/2017
Highly recommended!
Great quality. Extremely well packaged and presented. Highly recommended!
08/31/2017
Muy recomendable
Acabo de recibir la pajarita. Tiene una calidad excelente y viene en una caja embalada de una forma muy cuidada. Además, mandan también una carta de agradecimiento personalizada. ¿Qué más se puede pedir? Calidad, buen precio, embalaje espectacular, buena atención... Ojalá todas las tiendas fueran así. Sin duda seguiré comprando por aquí. Gracias por todo!!
08/29/2017
Excellent product, swiftly delivered
This is a good quality bow-tie (of the pre-tied variety) I am not someone who would tie a bow-tie myself. It looks super on a dress shirt.
08/29/2017
Bow tie with playing card pattern
Very good. I enjoyed the personalised accompanying note. Wish I had real friends like that.