With realistic touches and a natural, non-glossy wood finish, this exciting wooden bow tie is a great way to add some spunk to the way you dress. It features a perfectly layered design with a striking floral center band to give it more color and character.
Type: Pre-Tied
Size: 11.5cm x 6.5cm
Material: Wood
Package: Box
LIMITED TIME SPECIAL OFFER
Buy this today and save $12.01 USD! Only while stocks last.
Customer Reviews
Write a Review
Ask a Question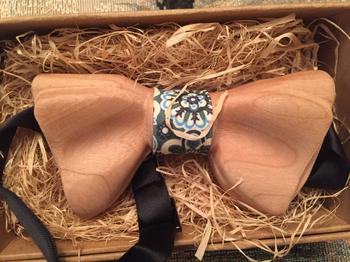 08/12/2018
Double Wooden Bow Tie -- amazing!!
I am very excited to finally wear my newest wooden bow tie purchase! Excellent product, professionally crafted - I am hooked! Wade Whitney
12/06/2020
Beautiful
This was purchased for my son-in-law. It is for Christmas I know he will love it
katrina p.
United States
07/07/2020
Great product
Love the ties. Quality, design and comfort are all 5 star
Jeff G.
United States
04/19/2019
Simply Dope
Innovatively captivating. Look forward to wearing this at my next dental function
12/30/2018
Wooden Bow ties
Great! I'm so glad that I made a investment in ordering this tie, will be ordering more in the near future! Carl
06/25/2017
Quality and service
Quick delivery and a well made product.
06/10/2017
Sweet product!
Fits nicely...around my large neck. Beautiful design! Lot's of complements.
05/07/2017
Nice
Really nice. My first wood tie.
02/15/2017
3 stars
Wish you can use different wood
01/28/2017
Happy Birthday!
I purchased 3 bow ties as a 40th Birthday Gift! He was so Happy! The wooden Bow tie was his favorite! I will definitely be making another purchase. It took some time to receive them but was well worth the wait! The personalize note and the quick response to my email made for excellent customer service.
01/04/2017
The Man Bow Tie
I really enjoy the bow tie product but modified them slightly to suot my needs. I stained one to a dark mahogany and it came out great. So I will be purchasing again. Great products.
12/30/2016
This sucks
Terrible, because I have yet to receive it! I emailed the company and they said to keep watching tracking, which hasn't moved in weeks.
I am sorry for the unexpected delay due to holiday season caused by our courier. As you can see, the package was shipped out on the day you placed the order, but the package might got stuck in the transition. I have just given you a full refund. And you can still keep the bow tie once it arrives. Sorry for the trouble caused.
11/30/2016
Have purchased other wooden bowties,
Have purchased other wooden bowties, yours was not anywhere near the same quality, design and construction. A huge disappointment.