Feathery blue strips that are offset by a black band make this bow tie an eye catcher. The pattern is made of bird feathers. This is a great tie for when you are feeling a bit blue and want some sympathetic understanding.
Type: Pre-Tied
Size: 11.5cm x 6.5cm
Material: Feather
Package: Box
Please note that this feather bow tie looks slightly green in normal situation, and it will turn into greenish blue color under the sunlight with different angle.
Every Feather bowtie has a slight color variation because of the hand selected feathers. The feather design is the same.
Customer Reviews
Write a Review
Ask a Question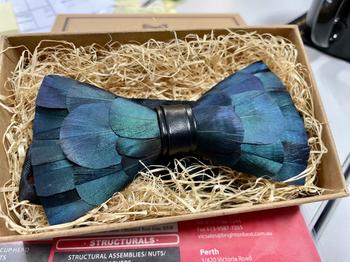 11/16/2021
Great product
It looked exact as I saw on the picture , very satisfied
Sthalon F.

Australia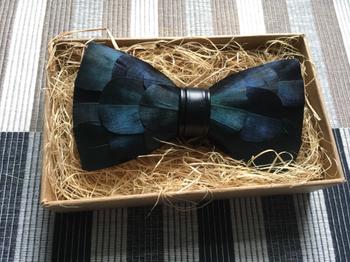 03/18/2019
Beautiful
Honestly the bow tie looks better in the catalog photo, still when I first got the real product it looked spectacular.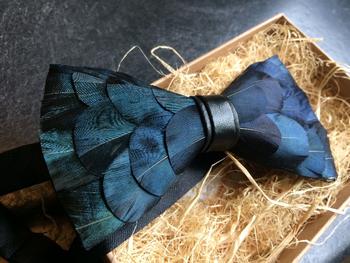 05/12/2017
Blue feather bow tie
Sorry for the poor review. I was sent a green feather bow tie. I ordered a blue one! The quality wasn't as high as I was hoping. The leather backing to the bow tie feels on the cheap side. The pictures look much better then the product. I like the wooden one I ordered though. Nice tie! Really upset with the feather bow tie. Not what I ordered!
03/15/2017
Blue Feather Bow Tie
Love, love, love the bow tie! Got for my son's prom and it is perfection!
05/27/2022
Terrible return policy
I tried to exchange and return but you have to send back to China at your own expense. The shipping costs more than the Bow-Ties.
03/20/2021
High quality product, high quality service.
The product is extremely high quality. Perfect for all occasions!
April W.

Australia
03/13/2021
Great gift!
Roommate loved it. Beautiful bow tie
Thomas S.

United States
01/01/2021
Fantastic and wonderfully made
My husband loved the first bow tie, so I got this one and he cannot decide which is his favorite. Beautiful and we both love the way the feathers show more blue or green depending on the light. He wore it to one of his lectures and said people were watching the bow tie -
Rebekah C.

United States
12/26/2020
Ida H.

Norway
12/24/2020
Very good product
Easy delivery. Excellent quality and package.
Bastien M.

United States
12/22/2020
Blue bow tie
Beautiful and perfect!
Michelle H.

United States
11/10/2020
Feather Bow Tie and Wooden Bow tie
Excellent. The bow ties I received are more than what I expected, and come in awesome packaging. The feathers and fabric on both bow ties are quality. Thank you very much
Laura J.

United States
09/12/2020
Blue Feather Bow Tie
Excellent!! Soo beautiful!!
Stephanie K.

United States
06/29/2020
Wow!
I was amazed by the quality of the bow tie. People will be so jealous their faces will turn green! And that's why I bought it!
Luc F.

Belgium
05/18/2020
Super cool!
Love the product and super fast service! All round great experience!
Dana D.

Canada
03/29/2020
It was perfect
Better than I expected, much worth the price.
Daniel G.

United States
03/18/2020
One of a kind gift
It's so hard buying gifts sometimes. However, this was a perfect give for a stylish guy who has everything. Looks great on screen but even better in person. Thoughtful and beautifully packaged. Quick delivery and great customer service. I look forward to purchasing more items!
Mensima B.

United States
02/28/2020
Very unique product! I loved
Very unique product! I loved the idea and quality and presentation. My order was delivered on time!
Elvira O.

Canada
02/26/2020
Unbelievable!
I saw the bow ties on line. I thought they look really nice and different. I received them in the mail, and they looked even better. Awesome! I got them in the mail a lot quicker than I expected. Team Bow - SelecTie all the way!
cedric y.

United States