Look your sharpest in this strikingly owl-like brown feather bowtie. The similarity is captured down to the last detail giving people the impression that a real owl is curled around your neck. Step out into the nocturnal life in sheer class and possibly a bit of improved night vision, thanks to this fabulous bowtie with duck feathers and pheasant feathers.
Type: Pre-Tied
Size: 11.5cm x 6.5cm
Material: Feather
Package: Box
Every Feather bowtie has a slight color variation because of the hand selected feathers. The feather design is the same.
CHRISTMAS DEAL
Buy this today and save $49.01 USD! Only while stocks last.
Customer Reviews
Write a Review
Ask a Question
08/02/2020
Love it
It's a beautiful bow tie. It's a very uniquely colored and detailed high quality purchase. I will be buying more ties from here. Worth every penny!
Jennifer R.
United States
04/17/2020
Great looking tie.
Great looking tie. Delivery was immediate, even during the pandemic. Got the Gray Pheasant. Will wear it with a western style tux this fall at the Oklahoma Military Hall of Fame dinner.
Russell S.
United States
03/20/2020
My Goodness
I have not worn my bow tie yet, but upon its arrival, I was elated to see how detailed the feathers are and just how striking the design is. I'm so glad I made this purchase and I'm even more excited about the customer service of this company! Do yourself a favor and make the investment. I'll update with pictures soon!
Kellie T.
United States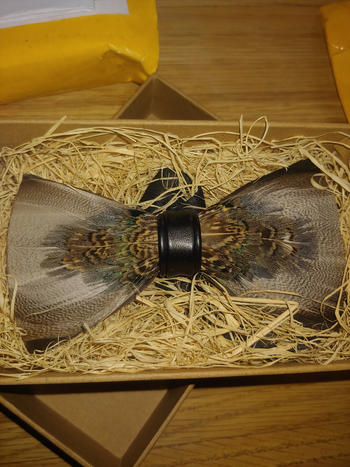 03/02/2020
Nailed it!!
Order was fantastic. Upon checking out I made a recommendation in comment section and to my surprise they took it into consideration. It turned out amazing! Can't wait to show it off.
Jeff S.
United States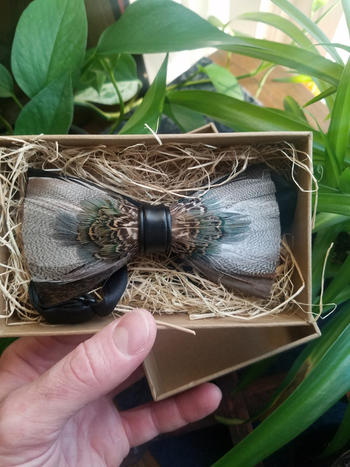 02/24/2020
i think i really like it
the tie is so unique. really spectacular looking feathers. the quality of the leather or leather composite left me wanting a bit. my first bow tie. went out on a limb. shipping took about 3 weeks however i know some factories were closed recently due to virus concerns in hong kong. shipping may not ordinarily take that long, i dont know. pricey, but very unique. i imagine i'll receive lots of comments the first time i wear it!
Charles P.
United States
01/31/2020
Great product
Unique bow-tie that looks great!
William B.
United States
12/12/2019
What a wonderful service
Thx for all. I get my order in a shortly time.
Winkler J.
Germany
11/21/2019
Beautiful Tie
Every aspect of this purchase was easy. The shopping was fast and the quality exceeded my expectations BUT my favorite was seeing my husbands reaction when he opened the box!
MICHELLE T.
United States
11/08/2019
Gifts
It's a gift. Looks great thanks
mark g.
United States
10/06/2019
Pheasant Bow Tie
I purchased this tie as a Christmas gift for my son-in-law. I am sure he will love it!
Libba S.
United States
05/23/2019
Beautiful!!
Was so happy with my purchase. And it came so fast.
04/12/2019
Feather Bow Tie
Absolutely brilliant!!!
01/07/2019
Beautifully Crafted
I have not worn it yet, but it is beautifully made. I'm looking forward to wearing it next week.
Lawrence B.
United States
12/27/2018
Cat's meow!
Like it........Been wanting a "feather" tie for long time
12/27/2018
Pheasant bow tie
Purchased this for our son who graduated college after a 6 yr stint in the military.... it is truly a piece of wearable art. The feathers are exquisite and craftsmanship of excellent quality. It will become an heirloom. Thank you for a truly unique and stunning gift for him.
12/23/2018
Feather Bow Tie
Very good quality. Shipping was fast.
12/20/2018
Beautiful!
Very well made! Order process was seamless and very efficient , even at this busy Christmas time for f year!
12/13/2018
GIFT
The Bow Tie was bought as a gift and is exactly as pictured. Very happy with the purchase and customer service received.
12/13/2018
Pheasant Feather Tie
I bought this tie for my son as a Christmas Gift. I am sure he will like it. It is so pretty. Since seeing it I am sure we will be buying some more. Such an unusual item and very well made. J. Brown