Blue Polka Dot Feather Bow Tie
This is a magnificent bowtie with light blue petals layered on each other to give the impression of a flower. The petals lie on a darker shade of blue to give a nice contrast. This blue feather bowtie just goes to show that blue is not always gloomy.
Type: Pre-Tied
Size: 11.5cm x 6.5cm
Material: Feather
Package: Box
Every Feather bowtie has a slight color variation because of the hand selected feathers. The feather design is the same.
CHRISTMAS DEAL
Buy this today and save $49.01 USD! Only while stocks last.
Customer Reviews
Write a Review
Ask a Question
02/26/2020
"Only way to look fly"
Awesome!
cedric y.
United States
02/19/2020
Love this tie!!!!!
Great --- and fast.
Timothy H.
United States
02/14/2020
Espectacular
Al pajarito es preciosa Tal y como viene en la imagen. Recomendable 100%
Jose M.
Spain
01/24/2020
Amazing ties
They're stunning.
Michael M.
United States
01/08/2020
Blue Dot Bow TIe
This is a great bow tie and it is actually more impressive in person than in the pictures. Great Job!
William J.
United States
12/24/2019
Blue polka dot feather bow tie
wow, even more beautiful in real life than on the picture
Michele M.
Canada
12/19/2019
great service - great product!!
It's a gift that has yet to be received so I can't actually answer that right now - but, the service was outstanding - too often mail order items get lost, or are slapped with an outrageous duty or delivery or you just don't know where your item is - but that is not the case here - customer service is prompt, efficient and very much appreciated! Well done!!
Maureen F.
Canada
12/07/2019
Excellent Company & Products
Not only are the bowties and the lapel pin well made and beautiful, they are packaged beautifully as well! Perfect for Xmas!! This is a great company to deal with as they no only provided updates regarding my shipment, but I received the items quickly. Definitely will purchase from them again!
Tamara S.
Canada
11/21/2019
Blue polka dot
It's a gift so won't know how he likes it until after Christmas. I also got the silver flower lapel pin and haven't received it. Wondering why you wouldn't save shipping and put them together ? Thanks. Wendy
Wendy S.
Canada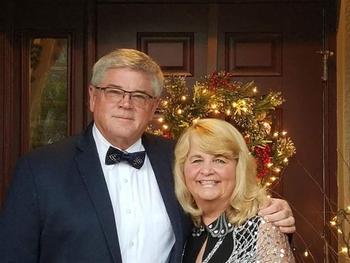 09/21/2019
Blue Polka Dot Feather Bow Tie
This is the second bowtie I haved ordered. Not only beautiful, but incredibly unique.. I have worn them when I wear a tux. Always a conversation starter.
Robert J.
United States
09/20/2019
Great product
The bow tie is more beautiful in person than in the photo. Easy to order and arrived in 3 days. Extremely pleased!
Michelle R.
United States
08/07/2019
Blue Polka Dot Bowtie
Easy, fast, love the packaging and the tie itself is beside and impeccably crafted. My husband loves it!
Debra E.
United States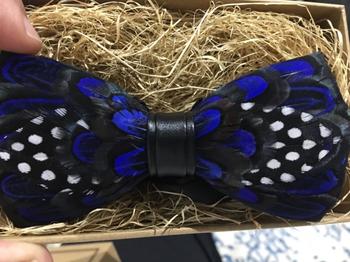 07/17/2019
Far better than I hoped for
WOW, my blue polka dot feather bow tie has just arrived today. Perfect timing as the gala event I'm going to and planning on wearing thus beautiful bow tie is next weekend. I'm really looking forward to wearing it, and it looks so amazing. I just know I'm going to get compliments all night on the bow tie, so let me start by firstly complimenting you for making such a magnificent product. Thank you very much
Peter A.
Australia
06/21/2019
Perfect Gift
Bought for a gift, my son who was getting married. We wanted him to stand out from the others. Expedited the order, came boxed beautifully and on time. My son was thrilled, tie was perfect, beautiful touch to our southern wedding. Very elegant for the Black Tie Event.
Denise B.
United States
04/19/2019
Wow
Fantastic, Lovely! I will by more and promote as well... Thank you for your artistry!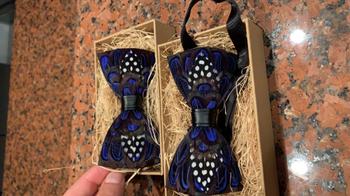 04/18/2019
Better than I expected
The first time I saw these bow ties I was in a little store in Sarasota, I was with my partner and we decided that these would have been perfect for our wedding. I was a little afraid to buy them online as the price we saw in that store was much higher there, but yesterday I received them and they are beautiful!!!! Super happy! Highly recommended.
04/05/2019
Great
Muy buen artículo. Envío rápido.
03/23/2019
Feather bowtie
This bow tie is one of a kind. Bought for a Birthday present, he loves it.
03/19/2019
Bow tie
Great product and well made
02/12/2019
Beautiful
Very nice bowtie it just wasnt a good color match with my wifes dress