This exquisite bow tie is made with natural guinea fowl feathers and pheasant feathers. The pheasant feathers sit atop a white speckled guinea fowl feathers. You might consider this to be your hunting tie regardless of whatever it is you may be hunting.
Type: Pre-Tied Bow Ties
Size: 11.5cm x 6.5cm
Material: Feather
Package: Box Included
Every Feather bowtie has a slight color variation because of the hand selected feathers. The feather design is the same.
Customer Reviews
Write a Review
Ask a Question
04/13/2020
great fashion accessories
Ordered my fist bow toes from Bow-Select. Received a feather tie and a wooden one. Both are classy and fashionably contracted. Look forward to wearing them.
Jeff G.
United States
03/22/2020
Love These Ties
I haven't actually worn them yet, but I plan too tomorrow. I bought 8 bow ties at the same time because I liked what I saw. They're very unique. I have to say that I'm impressed with the company and the customer service that I received on my first and only purchase. When I had a question, they responded immediately and they were very kind. I do have one thing to make people aware of, in the pictures the colors of the bow ties is very vibrant. When you receive them you won't see that vibrant color unless you're in the right light because the beautiful colors are kinda light reflective.
Ronald A.
United States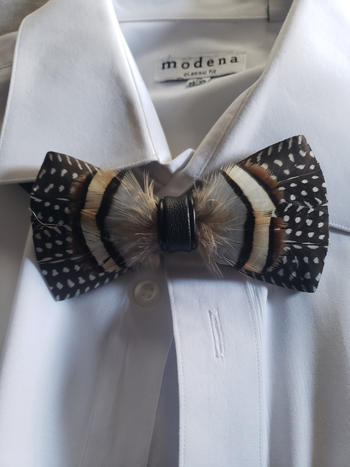 02/29/2020
Wild feather bow tie
The bow tie was well made and looks great!
Kaiesha D.
United States
02/26/2020
"Try it you will absolutely love it"!
Awesome!
cedric y.
United States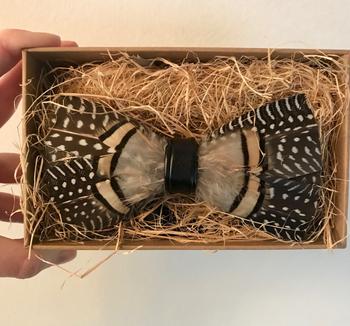 01/16/2020
Beautiful bowtie
I bought this bowtie as a gift and was so pleasantly surprised when the box arrived. The presentation of the tie is beautiful and the bowtie looked exactly as in the picture.
Ivana V.
Canada
01/12/2020
Great Quality Wild Feather Bow Tie
A gift for my husband who likes unique apparel.
Julie S.
United States
01/08/2020
Bow tie gift
I bought this for a gift. He hasn't received it yet but I know he'll love the uniqueness of it. It'll be in the front of his bow tie collection. Service was great - received it much faster than anticipated (the reason I haven't given the gift yet).
Katherine B.
United States
12/31/2019
He loves it.
Maiden voyage on New Years Eve.
Susan H.
United States
12/30/2019
One Sharp Tie!
I was most pleased with the beautiful tie I received from Bow-SelecTie! My grandson contacted me immediately to tell me how much he loves it. Your professional product and fast service made me look good this Christmas, and your tie will make my grandson look good, too!
Cheryl S.
United States
12/21/2019
Great gift
Recipient really liked and wore it straight away.
Patricia M.
United States
12/20/2019
Amazing
Hi, I have now purchased 4 of the Ties as gifts The look on faces when they open is worth the small cost Love them Great service, prices and delivery... Highly recommend Merry Christmas
Kim C.
Australia
12/18/2019
Wild feather bow tie purchase
Excellent experience! Item arrived on time and exactly as pictured on website, fantastic quality and in a beautiful and intact box. Will definitely become a repeat customer in the future!
Maggie R.
Canada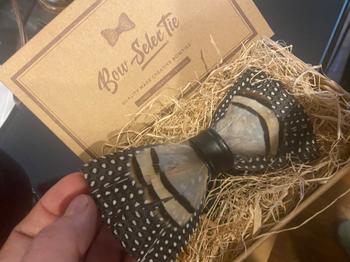 12/14/2019
Simply Elegant
The bow tie is just so gorgeous! It's elegance blow my friend away. Great quality! Thank you very much for making this product!!!!
Nancy R.
United States
12/14/2019
Beautiful bowtie
Great and customer service was outstanding
Marie D.
United States
12/07/2019
Love it
The item arrived in good time, as exactly as advertised and came beautifully packaged. It is a perfect Christmas Gift. Thanks again!
Kathy J.
Canada
12/06/2019
Wild feather Bow Tie
It is absolutely stunning and I'm looking forward to giving it to my brother for Christmas. Thank you for an amazing product and your swift delivery... I will definitely be a returning customer. ⭐️⭐️⭐️⭐️⭐️
Belinda B.
Australia
11/21/2019
Absolutely beautiful!
Absolutely beautiful!
alyson l.
United States
11/09/2019
Pictures reflect reality
I bought 3 Feather Bow Tie and received them quikly (1 week to Canada-Quebec). They are like they look on pictures. It is a bit expansive, but unique and great quality. Packaging is also cute. Service is very good.
Felix P.
Canada
11/05/2019
Product Review of "Wild Feather Bow Tie"
Ray, this bow tie came to us in impeccable condition and the quality of your work is awesome! Thank you for creating this line of fashion accessories for the men across America! IMCofer
India C.
United States
10/26/2019
Great Quality, Smooth Purchase!
Excellent....came as expected. Great quality. Easy purchase with quick delivery. Would def order again!
Paige D.
United States