Feathery blue strips that are offset by a black band make this bow tie an eye catcher. The pattern is made of bird feathers. This is a great tie for when you are feeling a bit blue and want some sympathetic understanding.
Type: Pre-Tied Bow Ties
Size: 11.5cm x 6.5cm
Material: Feather
Package: Box Included
Please note that this feather bow tie looks slightly green in normal situation, and it will turn into greenish blue color under the sunlight with different angle.
Every Feather bowtie has a slight color variation because of the hand selected feathers. The feather design is the same.
Customer Reviews
11/15/2019
Excellent Quality and Price
I came looking for feather bowties after seeing the Brackish ones in person at Nordstrom's. I liked them but thought the price point was outrageously high. I searched online and found BowSelecTie which I think had a far better selection for about half the price. Seeing the bowtie in person, I absolutely love it!
11/13/2019
Beautiful!
I purchased the blue feather bow tie as a Christmas gift for my brother-in-law. It is stunning! The package arrived promptly in perfect condition. I believe the bow tie is actually more beautiful in person than in the pictures. I'm very pleased and can't wait to give this gift.
R P.
United States
10/26/2019
Seamless transaction.
I've been eyeing these bow ties for a while, it was nice that when I pulled the trigger, it was a bulls eye! Thanks guys!
Blake J.
Canada
09/10/2019
Blue Feather Bow Tie
Great company to deal with, order came quickly and the quality is fantastic. Tie looked exactly like the picture.
Mathew R.
Australia
08/19/2019
Very expensive look!
Looks exactly as I expected! Beautiful feathers and the leather behind the feathers is a great feature!
Jordan R.
United States
07/11/2019
Vibrant yet subtle
The tie looks beautiful out of the box, going to be a great conversation piece and a way to stand out subtly.
Anthony P.
Canada
06/19/2019
Wearable Art!!!!
The Bow tie is absolutely beautiful. Even more outstanding than the picture. Delivery was fast. This is probably the 2nd review I ever did. I had to. I will definitely be purchasing in the near future 6 stars service
Maxime J.
United States
05/17/2019
Beautifully unique gift idea
Beautiful! Was the perfect gift for a well dressed gentleman!
05/17/2019
Quality
The bowties I purchase were of high quality. Delivery was timely, I couldn't have been more satisfied with my purchase from Bow-SelecTie.
04/03/2019
Totally happy
I am totally happy with my purchas. I always like to tie my own bow ties, but I wanted something fun, the bow ties I have got are great. I even got a few more for friends.
04/01/2019
Fashionable and flawless
It is a magnificent piece that catches your attention immediately. I'm so happy with the bow tie: it matched the description and exceeded my expectations.
JP
Jose P.
United States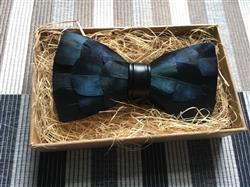 03/18/2019
Beautiful
Honestly the bow tie looks better in the catalog photo, still when I first got the real product it looked spectacular.
01/28/2019
Very nice now tie
I purchased the bow tie to wear at my wedding. It arrived quite quickly. It looks fantastic. I can't wait to wear it .
01/18/2019
Gift for nephew
It was great! Just got a note from him thanking me. His comment was: WOWZA!
12/30/2018
Unique bow tie.
Unique and lovely bow tie.
12/18/2018
Gorgeous ties!
I bought 2 ties for my husband for black tie events in New York City. They have been a major hits wherever they go...& so has my husband!
11/25/2018
Blue Feather
I purchased this specific bow tie for my future son-in-law for Christmas. He loves bow-ties and I am sure he will live this one. It is beautiful!
Kathleen K.
United States
08/16/2018
Fantastic
Hi Ray, I love the bow ties. I bought them for our wedding. Everyone loves them. They are so unusual and funky. Thank you for making them. S
08/07/2018
Good Customer Service
I received the tie quickly but it was not the color represented by the photo. Bow Tie Select was very easy to work with and returned the tie without any issues. I was happy to work with them and would look at them again for my feather tie needs.
07/19/2018
Really great quality!
My fiance was set on purchasing a Brackish Bowtie for our wedding day, but as expenses started to add up, he was hesitant to spend that much for just the tie portion of his suit. I came across BowSelecTie and am so glad I did! The bowtie is really great quality, especially for the price. The feathers are a gorgeous shade of blue and it's going to look great with our colors! I'd never know it wasn't a Brackish!