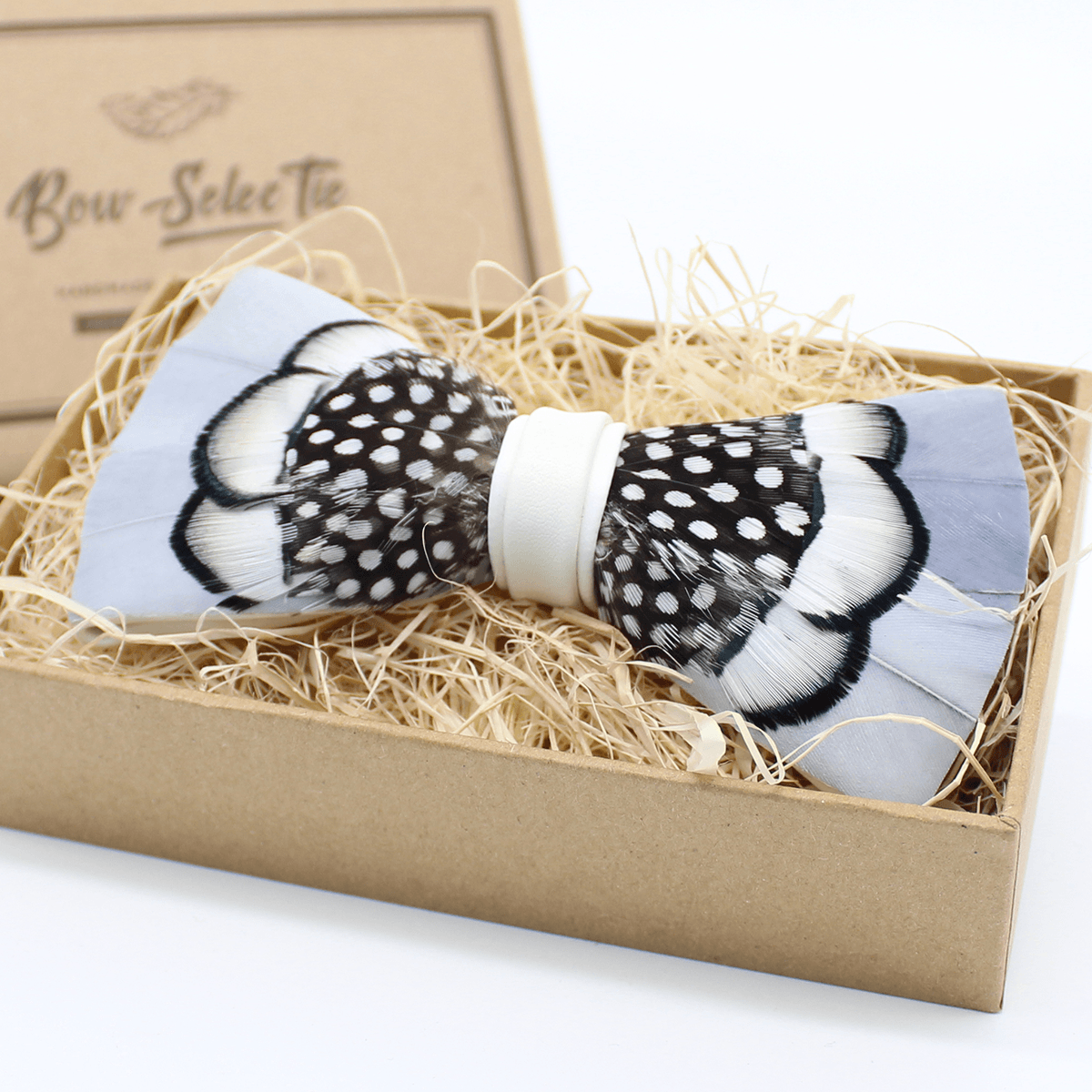 Silver Knight Feather Bow Tie
Silver Knight Feather Bow Tie is designed for gentleman who is superior and honorable. It's made with Lady Amherst Pheasant feathers, Guinea Fowl feathers and Goose feathers. Look best with black and white or grey color suit.
Type: Pre-Tied
Size: 11.5cm x 6.5cm
Material: Feather
Package: Box
Every Feather bowtie has a slight color variation because of the hand selected feathers. The feather design is the same.
CHRISTMAS SALE
Buy this today and save $66.00 USD! Only while stocks last.
Customer Reviews
Write a Review
Ask a Question
09/28/2023
Bow tie and lapel pin
Excellent selection and lapel pin makes it stand out would definitely recommend
Glennard B.

United States
03/24/2022
Best bowtie Ever
Bought this for my 20 year old son to wear in my daughters wedding! He was the frat boy flower guy! He got tons of compliments! Very well made, leather on the back ! ❤️❤️❤️
Yvette G.

United States
03/09/2022
Excellent product
Well made. Many favorable comments as people had not seen a feather bow tie before.
Janis D.

United States
10/27/2021
Such a Fun Gift
I ordered a bow tie for my dad to wear at my wedding and it was great! Such a fun way to make my dad feel special and stand out. He loved it. Shipping is very fast and loved the packaging.
Logan M.

United States
08/15/2020
Father of the bride
These bows are the most amazing thing ever ! I bought my dad a bow for my wedding. It came so fast and was so beyond perfect. It's so unique and the quality is amazing. My fiancé also bought one for himself! And after seeing them my brother will now be buying one too !!! We can easily say these ties are worth it ! I can't wait to see them all in them (: Thank you bow selectie
Cori T.

United States
05/22/2020
hello, we fell in love with that silver knight feather bow. love at first sight!!!!
The silver knight is so special, I'm waiting for that special occasion to wear it!!!
Charles M.

United States
02/15/2020
Beautiful and unique...
I ordered the Silver Knight feather bow tie and it was every bit as beautiful as the illustration. It arrived in a timely manner and was boxed with its own little "Bird Nest". I had been looking for a gray tie to polish off my husbands new gray slacks and sport coat. My husband had never worn a bow tie except with his tuxedo, but he loves this one. It is a great conversation starter and I'm certain he will wear it for years to come.
Judith S.

United States
12/30/2019
beautiful silver bowtie
Everyone loved the feathers! Wondered what kind of bird. Would help to include a description in the box.
Laura P.

United States
12/23/2019
Amazing Selection!
While the recipient of this tie hasn't seen nor used it yet, I was incredibly impressed at the selection of feather bow ties. In fact, it was difficult to decide which one to pick, so I'm sure I'll be purchasing more in the future.
Julie E.

United States
08/20/2019
Silver Knight
Received the bow tie today. Definitely exceeded my expectations. Had a custom charcoal 3 piece suit made for my son's wedding and the Silver Knight put it over the top. Honestly, the only difference I see in comparison to the other very expensive bow ties is that this tie came in a cardboard box instead of a wood box. And you don't wear the box. Highly recommend.
Dave W.

United States
08/15/2019
very nice product
i just found a little disappointing the fact that the bowtie was a little darker than in the picture
Alexander M.

Spain
07/25/2019
Bowtie
Very Good will buy soon love Bowtie.
ANTHONY J.

United States